Winona J. "Winnie" Eckley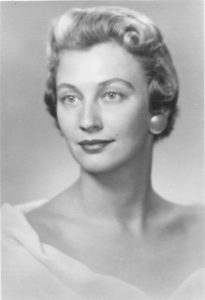 Winona J. "Winnie" J. Eckley, 87, a long-time resident of Philipsburg, passed away Wednesday, December 14, 2016, at Ridgeview Healthcare, Curwensville.
She was born May 20, 1929, in Wallaceton, a daughter of the late Chester and Leona (Dickson) Husted.
Winnie was a graduate of the former Philipsburg High school.
Winnie was married on February 23, 1964, in Virginia, to Robert G. Eckley, whom preceded in death on October 3, 1998.
In her earlier years, Winnie worked in a variety of occupations in various areas across the country. She worked as a Bell Telephone Operator in Philipsburg, a head hostess at Timberline Ski Lodge, in Mt. Hood, Oregon, a stockbroker's assistant in Los Angeles and as a fashion model in Cleveland.
Winnie returned to Philipsburg to become a familiar and admired presence in the local community; and her church, the First Presbyterian Church of Philipsburg, where she served as a member of the Trustees and of the Session. She worked for The Progress, served as a Tax Collector for Philipsburg Borough and she was an active force in local politics.
She was a lifelong member of the B.P.O. Elks Lodge #1173, Philipsburg; first, as part of the Women's Auxiliary and then as one of the first women to become an official lodge member. She loved music and was a talented singer. She was a 50 year member of her church's choir and she was a member of the Philipsburg Community Chorus. She was also an avid Penn State Football fan.
In addition to her parents and husband, she was preceded in death by two brothers, Brinton "Brint" Dickson and Clayton "Clate" Husted.
She is survived by two daughters, Lisa A. Holden and her husband, Thomas, of Philipsburg and Marilyn L. "Buffy" Eckley, of Philadelphia; one son, Robert J. Eckley, of Potomac, Maryland; two granddaughters, Sarah Souders and her husband, Tim, of Osceola Mills and Hannah Danko and her husband, Aaron, of Philipsburg; one great-grandchild, Koby Souders, of Osceola Mills; one sister, Dorcas Husted, of Las Vegas; and two brothers, Nelson and Spencer Husted, both of West Decatur.
Visitation will be on Monday, December 19, 2016, from 2 to 4 pm and from 6 to 8 pm at the Beezer-Heath Funeral Home, 719 E. Spruce Street, Philipsburg. An Elks Memorial Service will be conducted on Monday at 7:00 pm at the funeral home.
The funeral service will be on Tuesday, December 20, 2016, at 11:00 am at the First Presbyterian Church of Philipsburg, with Rev. Dr. Katie Hopper, Officiating.
Interment will be in Philipsburg Cemetery, Philipsburg.
Memorial contributions may be made in Winnie's memory to the First Presbyterian Church of Philipsburg, Capital Campaign, 509 E. Presqueisle Street, Philipsburg, Pa 16866.
Winnie was strong, intelligent and beautiful; attributes that she parlayed into a life of vast experiences and one filled with devoted friends and family – all of whom will miss her greatly.
Family and friends may sign the online guestbook and share memories at www.beezerheathfh.com