Kenneth T. Dillon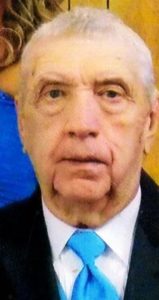 Kenneth T. Dillon, 71, of Philipsburg died Sunday, May 8, 2016 at the Tyrone Hospital.
Born on May 29, 1944 in Philipsburg, he was a son of the late Clifford C., Sr. and Helen M. (Shoffner) Dillon.
Mr. Dillon was a Protestant by faith and was formerly a member of the Chester Hill Hose Company. He had also been the manager of the Philipsburg Medical Center and A.F.S.C.M.E. boys and girls softball teams. He enjoyed fishing, dancing, classic rock and roll, and spending time with his family, especially his grandchildren.
He had been employed with the state of Pennsylvania, working at the Philipsburg State General Hospital, the Department of Forestry at Black Moshannon State Park and lastly with Penn D.O.T., until his retirement.
In addition to his parents, Mr. Dillon was preceded in death by three daughters, Tina and Vickie Dillon, and Robin Johnson; a grandson, Kenneth Lee Dillon, Jr.; a son-in-law, Richard Flick; two brothers, Robert and Clifford Dillon, Jr.; and two sisters, Lillian Dixon and Helen Dillon.
Surviving are three daughters, Michelle Dillon of Hyde; Laurie Dillon of Ashtabula, Ohio; and Danielle Flick of Philipsburg; two sons, Kenneth Dillon and his wife, Emma, and Brian Dillon, all of Philipsburg; two sisters, Hazel Culp of Philipsburg, and Cathy Brown of Gearhartville, RD Philipsburg; fourteen grandchildren; five great-grandchildren; and numerous nieces and nephews.
Funeral services will be held on Thursday, May 12, 2016 at 11 a.m. at the Beezer-Heath Funeral Home, Philipsburg, with Rev. Timothy D. Richmond officiating. Interment will follow at Reidy Cemetery in Wallaceton .
Friends will be received at the funeral home on Wednesday, May 11, 2016 from 4 until 8 p.m. and on Thursday from 10 a.m. until the time of services.
Family and friends may sign the guestbook and share memories at beezerheathfh.com