Melvin R. Croft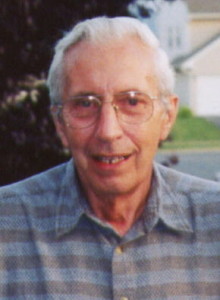 Melvin R. Croft, 80 of Philipsburg, PA died on Saturday, November 30, 2013 at Mount Nittany Medical Center in State College, PA.
He was the son of the late Hugh T., Sr. & Ida Ruby (Vaughn) Croft, born on December 30, 1932 in Philipsburg, PA.  He married the former Helen J. Harper on August 2, 1952 at the United Brethren Church in Tyrone, PA.  She survives him at home.

Mr. Croft was a member of the South Philipsburg Christian & Missionary Alliance Church and was an Army veteran of the  Korean War.  Until his retirement, he was employed as a maintenance supervisor at the Philipsburg Towers.
In addition to his parents, he was preceded in death by a sister, Gladys Croft.
Along with his wife, Mr. Croft is survived by: a daughter, Karen L. Ransdorf & her husband Michael of Philipsburg, PA; a son, Dave R. Croft & his wife Pam of Maytown, PA; two sisters, Dorothy Phillips of RD Philipsburg, PA and Sandra Pepperday & her husband Rodney "Pete" of Philipsburg, PA; and a brother, Hugh T. "Bud" Croft, Jr. of Philipsburg, PA.  He is also survived by: four grandchildren, Amanda Ferguson & her fiance Ryan Kline of Chester Hill, PA, Nicole Ransdorf of Philipsburg, PA, Heather Croft and her fiance, Randy Gensemer of Elizabethtown, PA and Jeff Croft of Mount Joy, PA; four great-grandchildren; a great-great grandson; and several nieces and nephews.
The funeral service will be held at 1:30 p.m. on Wednesday, December 4, 2013 at the Beezer-Heath Funeral Home, 719 E. Spruce Street, Philipsburg, PA.  Rev. Raymond L. Droll will officiate.  Burial will be at the Philipsburg Cemetery in Philipsburg, PA.
Visitation will be Tuesday, December 3, 2013 from 6:00 – 8:00 p.m. at the funeral home.
Military honors will be accorded at the funeral home by members of the Moshannon Valley Independent Honor Guard.
Memorial contributions may be made to the American Cancer Society, 26 South 2nd Street, Clearfield, PA 16830.
Friends may sign the guestbook at: beezerheathfh.com.