Zelma Louise Coval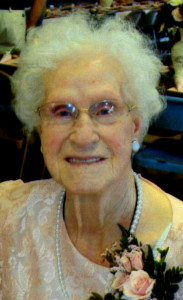 Zelma Louise Coval, 94, of Hawk Run, PA died on Monday, February 17, 2014 at her home.
She was the daughter of the late John Mitchell and Dora Rella (Flick) Bratton, born on September 27, 1919 in Sandy Ridge, PA.  She married Andrew Coval on November 27, 1940 in Philipsburg, PA; he preceded her in death on September 11, 1976.
Mrs. Coval was a member of the Chapel of the Good Shepherd in Hawk Run, PA, where she was also a member of the Alter Guild.  She was a homemaker and formerly employed with the Grier School in Tyrone, PA.  And she was a 1937 graduate of the Philipsburg High School.
In addition to her parents and husband, she was preceded in death by: six brothers, Lloyd, Wilbur, Samuel Lee, Harold, Harry and Fred Bratton; and two sisters, Ida Hubbard and Artie Merryman.
Mrs. Coval is survived by: four sons, James Coval, Sr. & his wife Madeline of Hawk Run, PA, William Coval & his wife Maryann of RD Morrisdale, PA, Donald Coval & his wife Sandy of Leesburg, FL, and Leonard Coval & his wife Patricia of Allport, PA; two sisters, Dorothy Frantz of Osceola Mills, PA and Pauline Kizer & her husband Boyd of West Decatur, PA; fourteen grandchildren, James, Jr., Dana, Doug, Jeff, Andrea, Michael, David, Sheri, Tina, Jennifer, Stacie, Darrell, Corina and Charlene; twenty-five great-grandchildren; and numerous nieces and nephews.
The Funeral Mass will be Celebrated at 10:30 a.m. on Saturday, February 22, 2014 at the Chapel of the Good Shepherd in Hawk Run, PA; with Rev. Clifford A. Johnston and Rev. William R. Walker officiating.  Burial will be at the Ashcroft Cemetery in Hawk Run, PA.
Visitation will be held Friday, February 24, 2014 from 2:00 – 4:00 p.m. and 6:00 – 8:00 p.m. at the Beezer-Heath Funeral Home, 719 E. Spruce Street, Philipsburg, PA 16866.
Memorial contributions may be made to: The Chapel of the Good Shepherd Memorial Fund, P.O. Box 23, Hawk Run, PA 16840.
Friends may sign the guestbook at: beezerheathfh.com.