Arlayne M. Corman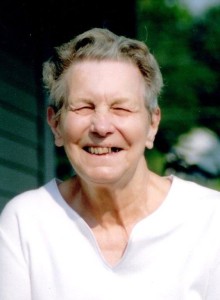 Arlayne  M. Corman, 85, of Curwensville, PA and formerly of Philipsburg, PA died on Saturday, June 6th 2015 at her home, which she shared with her son, Dan, in Curwensville, PA.
Born on February 27, 1930 in Detroit MI, she was the daughter of the late Harper Washington and Florence Margaret (Kreps) Mock and her great-aunt and great-uncle, the late John Irvin and Normena Jenny (McClellan) Shuey, who actually raised her.  She married Donald O. Corman on January 14, 1949 in Ocean City, NJ; he preceded her in death on January 30, 1999.
Mrs. Corman was a member of the First Presbyterian Church of Philipsburg and the Curwensville Alliance Church.  She enjoyed gardening, raising house plants and art.  She was a home health attendant for Centre County Home Health until her retirement and was a 1947 graduate of State College High School, after graduation she attended the Philipsburg State General Hospital School of Nursing.
In addition to her parents and husband, she was preceded in death by a daughter, Nancy Ann Jury.
Mrs. Corman is survived by: four daughters, Tanya Marie Riopel of Grants Pass, OR, Rosalie Jean Hockenberry of Hawk Run, PA, Lisa L. Colliver & her husband Bradley of Clearfield, PA and Teresa L. Corman of Clearfield, PA; four sons, John P.E. Corman of Ramey, PA,, Bruce D. Corman of Idaho Falls, ID, Neil L. Corman & his wife Gloria of Bigler, PA and Daniel P. Corman of Curwensville, PA.  She is also survived by sixteen grandchildren and numerous great and great-great grandchildren.
The Funeral Service will be held at 2:00 p.m. on Wednesday, June 10, 2015 at the First Presbyterian Church of Philipsburg, PA; with Rev. William H. Moore and Rev. Stephen D. Shields officiating.  Burial will be at the Stoneville Cemetery in West Decatur, PA.
There will be no public visitation.
Memorial contributions in memory of Mrs. Corman may be sent to her son, Daniel Corman, 27 Railroad St., Curwensville, PA 16833.
Friends may sign the online guestbook at beezerheathfh.com.