Ann (Crago) Wesesky Carl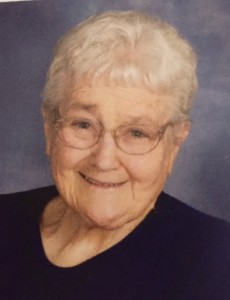 Ann Wesesky Carl, 89, of Munson, died Sunday, February 14, 2016 at Mountain Laurel Nursing & Rehabilitation Center, Clearfield.
Ann was born on May 28, 1926, in Philipsburg, a daughter of the Late Charles and Mary (Butlin) Crago.
She was member of the New Life Center, Philipsburg.
She was a 1944 graduate of the former Philipsburg High School.
Ann was initially employed from 1942-1947 as a trimmer for the former McLarren Sportswear, Philipsburg. She was then employed as a medical secretary for the former Philipsburg State General Hospital X-Ray Department from 1947-1952; and its successors, the Clarke M. Forcey, MD, X-Ray Department from 1952-1976 and 611 Radiology from 1976-1978. She was then employed as an administrative secretary for the hospital until her retirement in 1988.
Ann was married on June 14, 1952, in Clearfield, to Joseph A. Wesesky, who preceded her in death April 26, 1986. She was then married to Pastor Douglas L. Carl on July 14, 2001, in Philipsburg, who preceded her in death on November 30, 2007.
Ann was preceded in death by her parents; her first and second husbands; two brothers, Ben and Charles Crago; and one step-daughter, Margaret (Carl) Trantham.
She is survived by one son, Joseph C. Wesesky and his wife, Vicky, of Morrisdale; three grandchildren: Tim M. Wesesky and his wife, Andrea, of Morrisdale, Jolene E. Wesesky and her companion, Michael Dixon, of Morrisdale and Ryan A. Wesesky and his fiancée, Taylor McGonigal, of Morrisdale; two great-grandchildren, Carsyn and Chelsey Wesesky, of Morrisdale; one step-son, Douglas R. Carl, and his wife, Lois, of Reading; six step-grandchildren; and numerous nieces and nephews.
The funeral service will be held on Thursday, February 18, 2016 at 11:00am at the New Life Center, Philipsburg, with Rev. John T. Dill, Officiating.
The visitation will be on Wednesday, February 17, 2016, from 2 to 4pm and 6 to 8pm at the Beezer-Heath Funeral Home, 719 E. Spruce Street, Philipsburg; and on Thursday, February 18, 2016 from 10am until the time of the funeral service at the New Life Center, Philipsburg.
Interment will be at Philipsburg Cemetery.
Contributions in memory of Ann may be made to the New Life Center, P.O. Box 57, Philipsburg, PA 16866, in lieu of flowers.
Family and friends may sign the online guestbook and share memories at www.beezerheathfh.com.