Frank J. Brumbaugh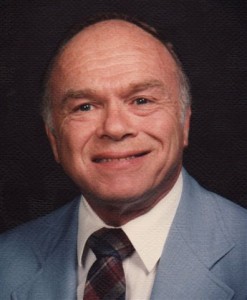 Frank J. Brumbaugh, 86 of Philipsburg, PA, passed away on Saturday, September 22, 2012 at the Hearthside Nursing and Rehabilitation Center in State College, PA.
He was born on June 22, 1926 in Philipsburg, PA, to the late Frank H and Violet (Johnston) Brumbaugh.  He married the former Evelyn Dorman on September 19, 1954.  She preceded him in death on October 4, 2007.
Mr. Brumbaugh was a member of St. Paul's Episcopal Church in Philipsburg, PA.  He had served on the church vestry for many years and was the last active church member to have served in the military during World War II.
While living in Delaware, he was a member of Christ Episcopal Church in Milford and was the church school superintendent for many years.

Mr. Brumbaugh was an army veteran of World War II having served in the 5th Infantry Division of General George Patton's Third Army.  He was very proud of earning the combat infantry badge, signifying actual combat against the enemy.
He was a member of the B.P.O Elks #1173 and the American Legion, John Ashley Dennis Post #437, both of Philipsburg.
Mr. Brumbaugh had been employed for 18 years as an x-ray technician at Milford Memorial Hospital in Milford, Delaware.  He also worked as a qualtiy assurance supervisor at the L.D. Caulk Dental Company in Milford for 22 years.
He was a  1944 graduate of the Philipsburg High School and attended the Franklin School of Science and Arts in Philadelphia where he earned diplomas in x-ray and medical technology.
In addition to his parents and wife, he was preceded in death by a son, Frank D. Brumbaugh.
Mr. Brumbaugh is survived by: a son, Boyd A. Brumbaugh of Boalsburg, PA; and a brother Donald L. Brumbaugh of Tucson, Arizona.  He is also survived by cousins, William I. Slee & his wife, Mary of Santa Ana, California and Thomas L. Johnston & his wife Julie Jo of Philipsburg.
A memorial service will be held at 11:00 a.m. on Wednesday, September 26, 2012, at the Beezer-Heath Funeral Home in Philipsburg, PA with Rev. William R. Walker officiating.  Burial will be at the Philipsburg Cemetery in Philipsburg, PA.
The family will receive friends at the funeral home from 10:30 a.m. until the time of service at 11:00 a.m.
Military honors will be accorded at the funeral home by members of the Moshannon Valley Independent Honor Guard.
Memorial contributions may be made to:  St. Paul's Episcopal Church, P.O. Box 170, Philipsburg, PA 16866.