Ethel Mae Boggan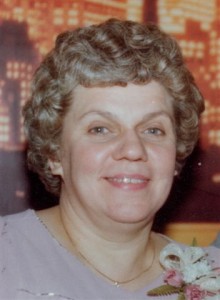 Ethel Mae Boggan, 78, of Philipsburg, PA passed away on Tuesday, January 1, 2013 at her home.
She was the daughter of the late Michael & Anna (Merva) Shirokey, born on February 12, 1934 in Morrisdale, PA.  She married George E. Boggan on December 1, 1956 in Morrisdale, PA.  He survives her at home.
Mrs. Boggan was a member of the Saints Peter & Paul Catholic Church in Philipsburg, PA.
Ethel was a homemaker and mother.  She was a 1952 graduate of the Morrisdale High School.
In addition to her parents, Mrs. Boggan was preceded in death by: two infant sons, Joseph and Edward Boggan; four sisters, And Hvizdash, Margaret Kerinke, Helen Stazinki, and Dorothy Glodak; and five brothers, Joseph, John, George, Micael and Andy Shirokey.
Along with her husband, she is survived by: a daughter, Brenda J. Wisor & her husband Nick, Sr. of Philipsburg, PA; a son George D. Boggan of Harrisburg, PA; a sister Maryann Hawley of Parma, OH; and a brother Edward Shirokey & his wife Ruth of Cleveland, OH.  Ethel is also survived by: six grandchildren, Jason Hanslovan of Virginia, Ryan Hanslovan & his wife Amanda of Philipsburg, Jessey Hanslovan of Morrisdale, Kelley Hanslovan of Philipsburg, Lindsay Boggan of Australia, Kristen Boggan of Harrisburg; one great-granddaughter Emmalynn Faith Hanslovan of Philipsburg; three step-grandchildren, Brittney Peace & her husband Ryan of Bigler, Nicholas Wisor, Jr. of Kylertown, Courtney Wisor of Philipsburg; four step-great-grandchildren; and numerous nieces and nephews.
The Funeral Mass will be celebrated at 10:00 a.m on Monday, January 7, 2013 at Saints Peter & Paul Catholic Church in Philipsburg, PA, with Rev. Robert J. Kelly, celebrant.  Burial will be at the Saints Peter & Paul Cemetery in Philipsburg, PA.
Visitation will be Sunday, January 6, 2013 from 4:00 – 8:00 p.m. at the Beezer-Heath Funeral Home in Philipsburg, PA.
The rosary will be recited at 4:30 p.m. on Sunday at the funeral home.
Memorial contributions may be made to the House of Care, 100 N. Academy Ave., Danville, PA 17822.
Friends may sign the guestbook at:  beezerheathfh.com.