Nettie I. Beschler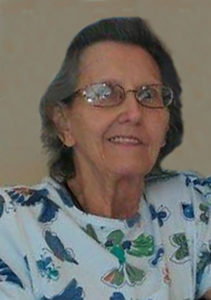 Nettie I. Beschler, 82, formerly of Philipsburg, died Saturday, October 14, 2017, at Mt. Laurel Health & Rehabilitation Center, Clearfield.
Nettie was born on April 11, 1935, in Philipsburg, a daughter of Ralph Swope and Florence (Doran) Swope Aldstadt, both of whom preceded her in death.
Nettie was a member of Trinity United Methodist Church, Philipsburg. She was a 1954 graduate of the former Philipsburg High School.
She was married on April 12, 1988, in Winchester, Virginia, to John L. Beschler, whom preceded her in death on January 23, 2015.
Nettie was a homemaker and spent her life devoted to taking care of the needs of her daughter, Susan Rose Shoffner, whom preceded her in death on October 4, 2008.
She was also preceded in death by one twin sister, Roseann Mondock; and one step-son, Tim Beschler.
Nettie is survived by two daughters, Donna Mitulski and her husband, Allan, of Erie and Cindy Lansberry and her husband, Tom Neiring, of Charleston, South Carolina; four sons: Dave Shoffner and his wife, Luann, of Madera, Tom Shoffner and his wife, Kim, of Erie, Dale Shoffner and his wife, Wendy, of Philipsburg and Michael Shoffner and his wife, Jennifer, of Philipsburg; eleven grandchildren; twelve great-grandchildren; one brother, Thomas Aldstadt and his wife, Betty, of Tennessee; two step-daughters, Christine Zeppenfeld and her husband, Sterling, of Trenton, New Jersey and Susan Zimmerman and her husband, David, of Philipsburg; two step-sons, Steve Beschler, of Duncansville and Mark Beschler and his wife, Dana, of Pittsburgh; and numerous nieces, nephews and extended family members.
The funeral service will be on Wednesday, October 18, 2017, at 5:00 pm, at the Beezer-Heath Funeral Home, 719 E. Spruce Street, Philipsburg, with Rev. Brenda K. Leigey, Officiating.
Visitation will be on Wednesday from 12 Noon until the time of the service at the funeral home.
Interment will be in Philipsburg Cemetery.
Memorial contributions may be made in Nettie's memory to the charity of the donor's choice.