John L. Beschler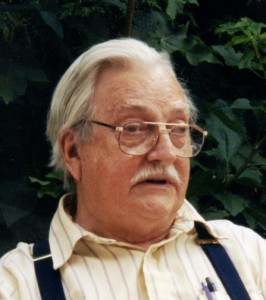 John L. Beschler, 86, Clearfield, PA and formerly of Philipsburg, PA died on Friday, January 23, 2015 at the Mountain Laurel Nursing and Rehabilitation Center in Clearfield, PA.
Born on January 13, 1929 in Tyrone, PA, he was the son of the late John and Stella (Ross) Beschler.  He married the former Nettie I. Swope on April 12, 1988 in Winchester, VA. she survives at home.  Mr. Beschler was a member of the New Life Center in Philipsburg, PA. and was a U.S. Army veteran of the Korean War.  He had
volunteered as a DJ during the early to mid 1990's for a number of "hymn time" programs on WPHB Radio in Philipsburg, PA.  He was employed as a railroad electrician for the former Pennsylvania Railroad / Conrail at the Juniata shops in Altoona PA. until his retirement.  Mr. Beschler was a graduate of the Tyrone High School.
In addition to his parents, he was preceded in death by a step-daughter, Susan Shoffner.
Mr Beschler is survived by: two daughters, Christine Zeppenfeld & her husband Sterling of Trenton, NJ and Susan Zimmerman & her husband David of Philipsburg, PA; two step-daughters Donna Mitulski & her husband Allan of Erie, PA and Cindy Lansberry & her husband Tom Neiring of Charleston, SC; three sons, Steve Beschler of Duncansville, PA, Tim Beschler & his wife Brenda of Ebensburg, PA and Mark Beschler & his wife Dana of Pittsburgh, PA; four step-sons Dave Shoffner & his wife Luann of Madera, PA, Tom Shoffner & his wife Kim of Erie, PA, Dale Shoffner & his companion Wendy Kelly of Philipsburg, PA and Michael Shoffner & his wife Jennifer of Philipsburg, PA; one sister, Beverly Spiller & her husband Don of LaPort, Texas; and two brothers, Samuel Beschler & wife Gerry of Tyrone, PA and Edwin Beschler & his wife Fern of Jamacia Plain, MA.  He is also survived by eleven grandchildren, nine great-grandchildren, ten step-grandchildren, eight step-great-grandchildren, numerous nieces and nephews.
The funeral service will be held at 11:00 a.m. on Thursday, January 29, 2015 at the Beezer-Heath Funeral Home, 719 East Spruce Street, Philipsburg, PA with Rev. John T. Dill officiating.  Burial will be at the Philipsburg Cemetery in Philipsburg, PA.
Visitation will be on Wednesday, January 28, 2015 from 2:00 – 4:00 p.m. and 6:00 – 8:00 p.m. at the funeral home.
Memorial contributions may be made in John's memory to the charity of the donor's choice.
Friends may sign the guestbook at beezerheathfh.com.