Franklin H. "Sparky" Bergey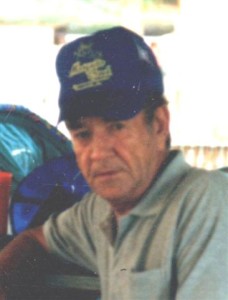 Franklin H. "Sparky" Bergey, 72 of Philipsburg, PA passed away on Monday, July 15, 2013 at his residence.
He was the son of the late Hilary and Grace (Plubell) Bergey, born on November 23, 1940 in Philipsburg, PA.  He is survived by  his longtime companion and loving caretaker, Norma Verbeck, of Philipsburg.  On November 25, 1961 he wed his former wife, Patricia June Jury, who also survives of Philipsburg.
Mr. Bergey was Roman Catholic by faith.  He enjoyed spending time at "Bergey Park", his hunting camp in Frenchville, with his family; it was the place where he felt most at home.  He was a construction laborer for local #910 of Johnstown until his retirement.
In addition to his parents, he was preceded in death by: three brothers, Robert, Burton and James Bergey; two sisters, Donna Bergey Anderson and an infant sister, Jean; an infant grandson, Brian Tyler; and a brother-in-law, Edward Zwolski.
Mr. Bergey is survived by: two daughters, Denise Bergey & her fiance Robert Kaule of Pittsburgh, PA and Melanie Bergey Sankey & her husband Joseph of Douglassville, PA; two sons, Brian Bergey and his fiancee Susan Myers of Clymer, PA and David Bergey & his wife Denise of Cumming, Georgia; two sisters, Delores Bergey Zwolski of Curwensville, PA and Annette Bergey Hugney of Frenchville, PA; and a brother, Stanley Bergey & his wife Virginia of Lanse, PA.  He is also survived by: seven grandchildren, Brianna, Morgan, Matthew, Brittany, Milicent, Blaine and Ben; and several nieces & nephews.
A memorial service will be held at 8:00 p.m. on Friday, July 19, 2013 at the Beezer-Heath Funeral Home, 719 E. Spruce St., Philipsburg, PA.  Deacon Dennis Socash will officiate.
Mr. Bergey's family will receive friends from 6:00 – 8:00 p.m. on Friday at the funeral home.
Memorial contributions may be made to:  American Heart / Stroke Association, Four Gateway Center, 444 Liberty Ave., Suite 1300, Pittsburgh, PA 15222-1207.
Friends may sign the guestbook at:  beezerheathfh.com.