Harold "Hun" Bell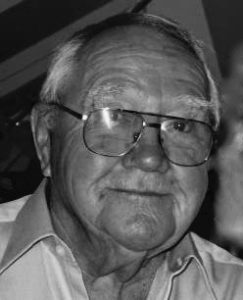 Harold "Hun" Bell was born to Naomi Harris Bell, and Seth W. Bell on July 15, 1925 in Philipsburg, PA. He was one of 9 children. His parents, four brothers, Edward, Norman, Charles and Richard, and one sister, Velma Gilpartrick, and his son, Harold Bell Jr, preceded him in death.
On October 14, 1943 he was inducted into the United States Navy. He served until the 7th day of February 1946, being honorably discharged as a Seaman Second Class.
February 13, 1943 he married the love of his life, Elsie Robbins, and built his life in Philipsburg. They were happily married for nearly 75 years and raised seven children.
His wife Elsie, three sisters, Norma Jean Gilham of Philipsburg, PA, Florence Wood of Philipsburg, PA, Frances Osborne and husband Jerry C. Osborne of Waynesboro, PA, survive him. Four daughters, Lauria Bell-Hughes and husband Randy Hughes of Black Mountain, NC, Linda McKay and husband David McKay of Deltona, FL, Robin Bell and fiancé', Rick Hess, of Frenchville, PA, Tina Millinder and husband Travis Millinder of West Decatur, PA and two sons, Seth Bell and wife Bonnie Bell of DeBary, FL, Jeffrey Bell and wife Stefanie Bell of Woodland, PA. also survive him.
From these seven children he begot 20 grandchildren, 32 great grandchildren and 12 great great grandchildren.
Numerous nieces and nephews also survive him.
For most of his adult life, he worked as a lineman for IBEW Local 126.
Throughout his ninety-two years, he touched many lives. Wherever he went he made friends because of his genuine love for people, and his passion for life. He brought joy to not only his family, but to everyone he met. We always said that, "he never met a stranger." Whenever Harold entered a room, the light shown a little brighter. He was a very special man who was deeply loved by his wife and all of his family. When his light went out on November 1, 2017, the world was a little less bright, and heaven received another angel.
We, his family will miss him terribly but will always hold him in our hearts. Until we meet again…
A celebration of Harold's life will be held on Saturday, December 2, 2017 at 2:00 o'clock, at the VFW, Post 8386, 879 Frenchville Hwy. , Frenchville, PA.
We hope family and friends alike will join us for his celebration.