Barbara J. Belko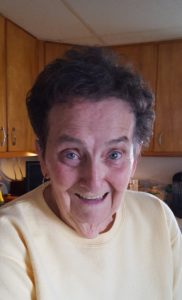 Barbara J. Belko, 80, of (North) Philipsburg, died Saturday, March 11, 2017, at Penn Highlands Clearfield.
Born March 7, 1937, in Cooper Township, Clearfield County, she was a daughter of the late A. Allen & Delilah (Pryde) Houston.
She was a 1955 graduate of the former Philipsburg High School.
Barbara was of the Catholic faith. She was first employed with the former General Cigar and then as a secretary with the former Philipsburg State General Hospital.
She was married on August 6, 1960, in Philipsburg, to Robert T. Belko, whom survives at home.
She was preceded in death, in addition to her parents, by one sister, Gladys Potts.
Barbara is survived by five children: Kelly J. Foreman and her husband, Tom, of RD Philipsburg, Jean E. "Jeanne" Harris and her husband Jeff, of (North) Philipsburg, Betsy M. Clark and her husband, John, of Allport, Michael C. Belko and his wife, Brenda, of Centre Hall and Barb A. Mencer and her husband, Chuck, of Hollidaysburg; nine grandchildren: Hunter Harris, John and Justin Clark, Christopher, Logan and Christina Belko, Julie, Meg and Tim Mencer; two great-grandchildren, Landyn Monteforte and Nora Mencer; and a number of nieces and nephews.
Visitation will be on Thursday, March 16, 2017, from 5 to 8 pm, at the Beezer-Heath Funeral Home, 719 E. Spruce Street, Philipsburg.
A funeral service will be held on Friday, March 17, 2017, at 11:00 am at the funeral home with Fr. John Gibbons, Officiating.
Interment will be in Philipsburg Cemetery, Philipsburg.
Memorial contributions may be made in Barbara's memory to the American Diabetes Association, 2 Chatham Center, Ste. 1520, 112 Washington Place, Pittsburgh, Pa 15219 / (www.diabetes.org) or to the Alzheimer's Association, 270 Walker Drive • Ste. 201B, State College, Pa 16801-7097 / (www.alz.org).