Laura J. Barnett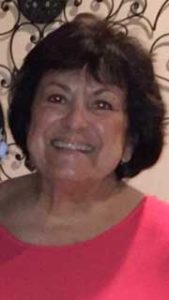 Laura Jean Barnett, 80, of Philipsburg, passed away surrounded by family at Mount Nittany Medical Center, State College, on February 14, 2017.
Laura was born on January 11, 1937, at the former Philipsburg State General Hospital to the late Robert E. and S. Ruth (Black) Flegal.
She attended and graduated from the former Philipsburg High School; and went on to marry her junior high sweetheart, Gary Lee Barnett, on November 7, 1953, at the First Presbyterian Church of Philipsburg.
She retired as a secretary from the former Philipsburg Junior High School.
Laura enjoyed a number of activities including: The Philipsburg Historical Society, Contemporary Club, Library Board, Junior Woman's Club (past–president), Mothers of Mounties (founder) and Osher Lifelong Learning Institute (OLLI) courses from Penn State. She was an active member of the First Presbyterian Church of Philipsburg, where she had served on The Board of Deacons, Trustees and Session.
Laura's hobbies included enjoying activities with her lifelong friends, traveling, playing games and always attending her children's, grandchildren's and great-grandchildren's activities.
In addition to her husband, she is survived by three daughters: Kathy Ellen Reese and her husband, Richard, Julie Rae Milsom and her husband, Jay, and Krista Linn Campomizzi and her husband, Rick; one son, Gary L. "Kip" Barnett, II and his wife, Lisa; she was lovingly known as "Geeba" by her eight grandchildren: Stephanie Hodder, Taylor Reese, Lauren Reese, Casey Barnett, Miranda Goodson, Kayla Dierich, Maura Campomizzi and Noah Campomizzi; and six great-grandchildren: Hailey, Lily and Molly Hodder, Everett and Amelia Goodson and Barker Barnett. She is also survived by one sister, Charlene Baughman and her husband, Neil; a brother-in-law, Richard Rapsey; and her loving, furry companion, Kate.
Laura was preceded in death by her parents; one sister, Leona Rapsey and one brother, Robert Flegal.
Laura loved being surrounded by family and laughter, always took pleasure in reading a good book, and enjoyed tending to her flower garden. Her favorite days were ones filled with sunshine and sandy beaches. Her love of traditions from Rehoboth vacations and sea witch festivals, to holidays surrounded by family, will always be celebrated and treasured.
Visitation will be on Friday, February 17, 2017, from 2 to 4 pm and 6 to 8 pm at the Beezer-Heath Funeral Home, 719 E. Spruce St., Philipsburg.
A funeral service will be held on Saturday, February 18, 2017, at 11:00 am at the First Presbyterian Church of Philipsburg, 509 E. Presqueisle St., Philipsburg, with Rev. Dr. Katie Hopper, Officiating.
Interment will be in Philipsburg Cemetery, Philipsburg.
Memorial contributions may be made in Laura's memory to: Mesothelioma Research Foundation of America, 3011 Townsgate Road, Suite 450, Westlake Village, CA 91361; or to The First Presbyterian Church of Philipsburg, Memorial Fund, 509 E. Presqueisle St., Philipsburg, PA 16866.
"Go for the dream that's in your heart. Make "living large" your special art. Hold nothing back and have no fear. Live lifetimes everyday all year."