Margaret "Peggy" (Wolfe) Ackerman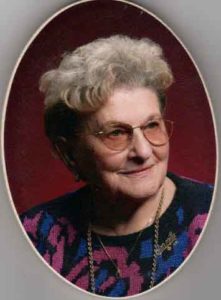 Margaret "Peggy" (Wolfe) Ackerman, 99, of Philipsburg, and formerly of Pittsburgh, died July 20, 2017, at Windy Hill Village, PSL, Philipsburg.
Born February 22, 1918, in (Gearhartville) Philipsburg, she was a daughter of John and Mary (Cusher) Wolfe, both of whom preceded her in death.
Margaret was a graduate of the former Philipsburg High School.
She was a lifelong member of St. John's Orthodox Church, Chester Hill. She was employed throughout her working career as a bookkeeper, retiring from Health and Beauty Aids, of Pittsburgh.
Margaret was married to Ross M. Ackerman, who preceded her in death on April 16, 1976.
She was also preceded in death by four sisters: Mary Damus, Helen Griffin, Ann Lucas and Dolly Williams; and four brothers: John, Raymond, Joe and George Wolfe.
She is survived by two sons, Kirk Ackerman, of Los Angeles, California and Grant Ackerman, of Los Angeles, California; one grandson, Daniel Ackerman, of Los Angeles, California; and numerous nieces and nephews.
An Orthodox Parastas funeral service will be held on Saturday, July 29, 2017 at Noon at the Beezer-Heath Funeral Home, 719 E. Spruce Street, Philipsburg, with Rev. Robert Oravetz, Officiating.
Visitation will be on Saturday from 11:00 am until the time of the service at the funeral home.
Interment will be in Philipsburg Cemetery, Philipsburg.
For those who would like to send floral arrangements in memory of Margaret, the family florist is Moffatt's Floral Shop, Philipsburg, 814-342-4655.