R. Joel Heath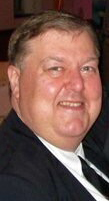 R. Joel Heath, 59, of Chester Hill, died Thursday, July 7, 2016, at Milton S. Hershey Medical Center, Hershey.
Born on December 7, 1956 in Philipsburg, PA, he was a son of the Late Robert R. and Sarah L. (Huston) Heath.
Joel was a member of St. Laurence Episcopal Church, Osceola Mills; the Osceola Mills Lodge #515, F. & A.M., having served as Worshipful Master in 1983; the Altoona Scottish Rite and Jaffa Temple, Altoona; a founding member of the former Chester Hill Lion's Club; a Life Member of the B.P.O. Elks #1173, Philipsburg; a Life Member of the Osceola Mills Community Historical Foundation; the Keystone Funeral Director's Association, the Pennsylvania Funeral Director's Association; the National Funeral Director's Association; and a past member of the Pennsylvania Coroner's Association
Joel was a 1974 graduate of the Philipsburg-Osceola Mills Area High School; a graduate of the University of Pittsburgh; a graduate of St. Francis University with a teaching certification; he earned his Master's Degree, with High Honors, in Education from Mississippi State University; and he was a Honors Graduate of the Pittsburgh Institute of Mortuary Science.
Joel was a third generation funeral director; having been licensed for 35 years. He was also an educator. He formerly taught as a substitute in a number of the local area high schools and he was formerly a member of the faculty and a department co-chairman at Mississippi State and an instructor at Pittsburgh Institute of Mortuary Science.
Joel was also involved in local county government; having served as the Clearfield County Coroner for six terms, from 1987 to 2011.  He received a number of accreditations and certifications in his capacity as coroner which included: Eye Enucleation Certification, from the University of Pittsburgh, School of Medicine;  Eye Enucleation Technician, from the Center for Organ Recovery; Forensic Death Investigation, from Penn State University, Edinboro University, Mercyhurst Archeological Institute, the Allegheny County Medical Examiner's Office, the Erie County Coroner's Office and the Pennsylvania Dental Association Forensic Odontology Committee.
Most recently, he was a funeral director and business partner of the Heath Funeral Home & Cremation Services, Osceola Mills, and the Beezer-Heath Funeral Home, Philipsburg. Joel was currently the Supervisor of the Beezer-Heath Funeral Home, a position he has held since 1993.
Joel is survived by his wife, the former Sheila K. Folmar, whom he married on December 17, 2004, in Winchester, Virginia; one sister, Virginia R. "Gina" Walls, of Osceola Mills; one brother, Dr. John Scott Heath and his wife, Dr. Elizabeth Heath, of Michigan; a nephew, Matthew R. Walls and his fiancée, Brianna Reynolds, of Philipsburg; two nieces, Allison Sarah and Katherine Elizabeth Heath, both of Michigan; a great-niece, Adelynn Jade Walls and a great-nephew, Nolan Matthew Walls, both of Philipsburg;  three step-sons: Jason L. McCliment and his wife, Jaimie, of Seven Valleys, Pa, Todd A. McCliment and his wife, Ildiko, of Fayetteville, North Carolina, and Brandon J. McCliment and his wife, Shawna, of RD Osceola Mills, Pa; five step-grandchildren: Shannon Josephine, Brooklyn Marie, Madison Harper, Oliver Lloyd and Landon Joel McCliment.
In addition to his parents, Joel was preceded in death by his first wife, the former Bettyann Benjamin, who died on November 16, 2001; and one step-grandson, Lincoln Blaise McCliment.
The funeral service will be held on Tuesday, July 12, 2016 at 11:00 am at the Beezer-Heath Funeral Home, 719 E. Spruce Street, Philipsburg, with the Rev. Fr. William R. Walker, Officiating.  Visitation will be on Monday, July 11, 2016 from 4 to 8 pm and on Tuesday July 12, 2016 from 10:00 am until the time of the service at the funeral home.
Interment will be in Umbria Cemetery, Osceola Mills.
Memorial contributions may be made in Joel's memory to St. Laurence Episcopal Church, P.O. Box 128, Osceola Mills, PA  16666.
Online condolences may be submitted at www.beezerheathfh.com