Sylvia Mae Gallo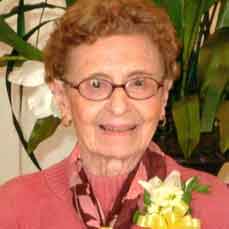 Sylvia Mae Gallo, 96, of Philipsburg, surrounded by her loving family, departed this life on Monday, June 23, 2014, at Colonial Courtyard at Tyrone, Tyrone, PA.
Sylvia was born on May 28, 1918, in Hawk Run, a daughter of Franklin and Mary Etta (Lewis) Duprey.
She was married on February 6, 1937, in Philipsburg, to John Gallo, who preceded her in death on September 20, 1996.
She had been employed for many years; first, with the former Adelman & Ratowsky Fine Clothing Store and then with the former Ames department store, both of Philipsburg.
Sylvia was a long standing active member of the First Evangelical Lutheran Church, Philipsburg; where she enjoyed singing in the church choir and being a member of the Ladies Guild. Anyone who knew her would agree "Sylvia never met a stranger." She always had time to stop and talk with everyone.
Sylvia greatly enjoyed the time spent with her family. They especially loved to hear her stories and reminisce about her childhood in Hawk Run during the 1920's & -l930's. She was a devoted and loving mother to her three children.
She is survived by two daughters, Marlene Middleton and her husband, Ray, of (Sleepy Hollow) RD Philipsburg, and Judy Baratta and her husband, Frank, of Ft. Lauderdale, Florida; a daughter-in-law, Nellie Beiser, of Florida; nine grandchildren; nine great-grandchildren and one great-great granddaughter.
Sylvia was preceded in death by her parents; husband; one son, John G. "Johnnie" Gallo; a granddaughter, Kimberly Dawn Ashby; one sister and five brothers. She was the last of her generation.
She will be greatly and lovingly missed by all of her family members.
Family and friends will be received at the Beezer-Heath Funeral Home, 719 E. Spruce Street, Philipsburg, on Friday, June 27, 2014 from 6:00 to 8:00pm; and on Saturday, June 28, 2014 from 1O:OOam until the time of service at the funeral home.
The funeral service will be on Saturday, June 28, 2014 at ll:OOam at the Beezer-Heath Funeral Home, Philipsburg, with Rev. William R. Walker, Officiating.  Interment will be at Ashcroft Cemetery, Hawk Run.
Memorial contributions may be made in Sylvia's memory to the First Evangelical Lutheran Church, PO Box 377, Philipsburg, PA 16866
Online condolences may be submitted at beezerheathfh.com.