Andrew John "Andy" Belko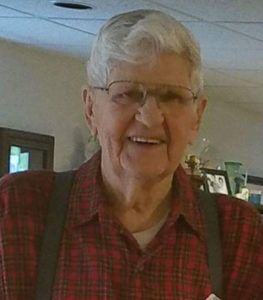 Andrew John "Andy" Belko, 88, of Philipsburg, died Wednesday, June 7, 2017, at Mount Nittany Medical Center, State College.
Born October 25, 1928, in Philipsburg, he was a son of John and Pauline (Lucas) Belko, both of whom preceded him in death.
Andy was a Christian and he was raised in the Roman Catholic faith. He was a
1946 graduate of the former Philipsburg High School. He was an army veteran of the Korean War.
He was first employed as a machinist and then as a tool and die maker with several area businesses throughout his working career; including, Lee Industries, of Philipsburg, HRB Singer, formerly of State College and DuPont / Berg Electronics, formerly of Clearfield, until his retirement on December 31, 1991.
Andy was a member of the B.P.O. Elks #1173 and the AMVETS #159, both of Philipsburg.
He had a number of hobbies; including: hunting, fishing, bowling and small engine repair. He was also a very adept roller skater in his younger years.
Andy was married on July 28, 1952, in Winchester, Virginia, to the former Lois E. "Loie" (Wood), whom preceded him in death on September 20, 2016.
He was also preceded in death by three sisters: Verna Walker, Pauline Belko and Mary Shedlock; an infant brother, George Belko; and three brothers: John, George and Edward Belko.
Andy is survived by one daughter, Amy Jo Belko, of Philipsburg; four grandchildren: Miles Lynn Fenton, of (Treasure Lake) DuBois, Meili Lynn-Qing Belko, Meizhen Lynn-Miao Belko and Minhao Lynn Yan Belko, all of Philipsburg; two sisters, Betty Sicks and her husband, William, of Philipsburg and Marge Lewis and her husband, Ken, of Maryville, Tennessee; three brothers: Robert Belko, of Philipsburg, William Belko and his wife, Melissa, of Philipsburg and David Belko and his wife, Stephanie, of Wexford; and numerous nieces and nephews.
The funeral service will be on Saturday, June 10, 2017, at 10 am at the Beezer-Heath Funeral Home, 719 E. Spruce Street, Philipsburg, with Pastor Matthew Mitchell, Officiating.
Visitation will be on Friday, June 9, 2017, from 6 to 9 pm and on Saturday, from 9 am until the time of the service at the funeral home.
Interment will be in Philipsburg Cemetery.
Memorial contributions may be made in Andy's memory to the Moshannon Valley Veterans Memorial, P.O. Box 1, Philipsburg, Pa 16866.